Study
Acting

If you love acting, the chances are you're creative, curious and flexible. And these are the qualities needed to get the best out of our course. We help you to develop your versatility and performance skills across a range of genres - including contemporary theatre, classical theatre and devised performance. You are encouraged to embrace many different aspects of theatre making and if you play an instrument there are opportunities to use these skills as an actor-musician.
While studying with us, you increase your knowledge of the industry and gain valuable insights as to how your passion for acting can become a career. We also help you to improve your audition skills and prepare you to take the next steps - whether that be at a drama school, a university or directly into employment.
Course overview
In Year 1, you work on four key projects, including ensemble theatre and a commissioned piece. Alongside this, you develop your skills in voice and speech, physical theatre, acting techniques, singing and learn about the historical context of theatre. By presenting your work in front of an audience - including full-scale productions and smaller 'sharings' of work to staff and fellow students - you develop your stagecraft and become more confident in the performance space.
In Year 2, you study acting innovations, playing with text, historical context, and the acting industry. You get to participate and perform in a Shakespeare project and practice and prepare for auditions. There are opportunities to tailor the course to your developing interests in Year 2 as you get to choose an 'option'. Typically, these have included musical theatre, voice acting, directing, documentary theatre and clowning and mask.
Your final project is either a contemporary or classical, full-scale, theatrical production.
Throughout both years, you work with students from other disciplines to put on a range of performances - some in our own theatre space and others at venues across Liverpool. You also benefit from workshops delivered by industry professionals.
Course highlights
Perform regularly in our 100- seat Willy Russell Studio.
Participate in workshops and masterclasses with visiting professionals - past guests have included Danny Boyle, Peter Capaldi and Stephen Fry, along with many other performing arts practitioners, who work locally and nationally.
Gain inspiration by participating in theatre visits locally and further afield - previous ones include London's West End, Royal Shakespeare Company in Stratford-upon-Avon and Royal Exchange Theatre in Manchester.
Collaborate with students from other disciplines - including musicians, dancers and technical theatre and design students - to put on a range of performances throughout the year.
Benefit from industry-experienced tutors with a wealth of acting, directing, writing and theatre-making knowledge and experience and who are still active in the industry.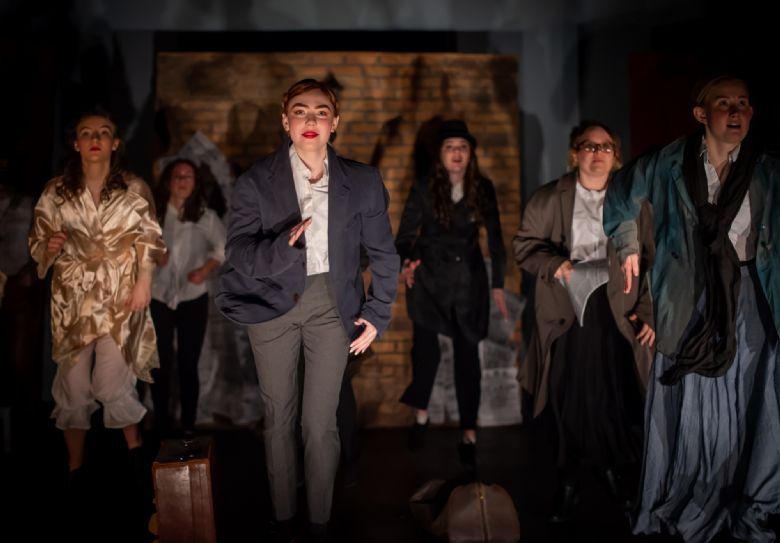 Skills to be developed
Acting techniques
Actor-Musician (if applicable)
Audition preparation
Classical performance
Directing
Physical Theatre
Singing
Text work
Voice and speech
What our students go on to do
Students who have recently graduated from our Acting course have gone on to study at:
Bristol Old Vic Theatre School
Essex University
Falmouth University
Guildhall School of Music & Drama
Leeds Beckett University
Liverpool Institute for Performing Arts
Manchester College (The Arden)
Royal Birmingham Conservatoire
The Royal Central School of Speech and Drama
Salford University
University of Central Lancashire
University of Chester
University of West London
Enrichment activities
We offer a range of enrichment activities alongside your studies, which vary from year to year depending on our students' interests. Previous enrichment activities have included directing, scriptwriting, our weekly lunchtime gigs the Soundcheck Sessions, knitting club, theatre special effects makeup, LGBTQ club, choir and football.
Did you know?
We encourage all students to develop their knowledge and skills in all areas because the more you can do, the more employable you are.
Many young actors think that in order to be successful they have to be like someone else. We believe that your individuality and uniqueness is what will help you to be successful.
How do I apply?
We usually hold in person auditions and interviews for our courses. Providing there are no pandemic-related restrictions during the application process from September 2022, we will continue to hold in person auditions and interviews during February and March 2023 for September 2023 entry.
The details of what applicants are asked to do can be found below, to help you prepare in advance of your audition and interview.
Auditions and interviews are held in February and March, and decision letters are sent out in April.