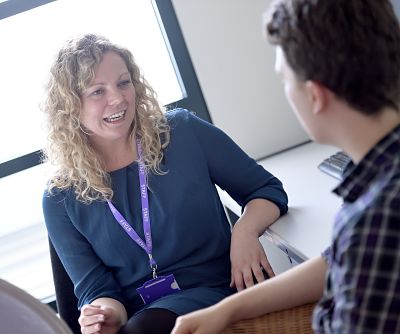 You will benefit from a range of support as you progress through your studies. This will come from your lecturers, from our inclusion team and through our pastoral programme, as well as from visiting industry contacts with whom you might work.
Each student will have their own personalised learning plan, which will be used by students, parents and lecturers to monitor your progress in all areas of your study programme. Regular feedback from your lecturers and personal tutors will help you stay on track. Support is available where required for those students who have additional support needs.
Pastoral programme
When you join us, you will be assigned a personal tutor, who will be your main contact for your day-to-day needs. You will meet with your personal tutor and a small group of other students on a regular basis, but you will also benefit from regular individual progress tutorials, during which you can discuss your learning progress. Your personal tutor will receive regular feedback from your discipline lecturers and will also monitor your attendance.
Lecturers and industry contacts
Your lecturers and visiting industry professionals will also be important contacts and sources of support and guidance during your time with us. Providing you with regular feedback on your progress, they will teach and guide you towards achieving the vocational and professional goals you identify and will also provide information about careers and degree courses.
Careers and university advice
In addition to ongoing advice and support from tutors and industry professionals, we will also offer you a formal 'Progressions' programme, which is our own course dedicated to university choices, UCAS applications, work placements, job opportunities, apprenticeships and internships.
Student voice
At the beginning of your course, you will receive more information on how to join our elected Student Board, who are actively involved in decision-making and bring a student perspective to the overall organisation and daily life of the college.
Assessment and reporting
Your course progress will be continually assessed throughout the two years of your UAL Level 3 Extended Diploma. Our communication with your parents/carer/guardian will be important to help you progress not only in your studies, but also as you develop as a young adult, becoming increasingly self-reliant, independent and motivated. Shortly after you begin your studies with us in September, we will hold an Information Evening for all parents and carers. We will also hold Parents' Evenings in both years, at which you will be expected to attend with your parent/carer/guardian.
Students with Special Educational Needs and/or disabilities
We welcome applications from everyone with a passion for the creative and performing arts - if you have particular educational needs and/or a disability, you may wish to have an informal, confidential discussion with Amy Deane, our SENDCO, before submitting your application. She can be contacted at admissions@lipasixthformcollege.org or on 0151 330 3232.
Once you have accepted a place with us, please expect our SENDCO and inclusion team to contact you to help develop your study programme.
Enrichment programme
You will enjoy a wide range of opportunities to enrich your learning and professional development beyond your study programme. For example, enrichment activities currently running include directing, scriptwriting, choir, ukulele club, events management, drama and improvisation, poetry, urban/street dance and football. While studying at LIPA Sixth Form College, you will have the chance to:
Contribute to the production of performances on various scales, such as internal performances in our own Willy Russell Studio Theatre or at an external performing arts venue or event
Participate in masterclasses, seminars and workshops led by leading professionals who may also provide extended teaching for performance projects. This might involve you taking direction from a commercial dance choreographer or a West End director
Engage in community arts productions and be involved with the wider community as an integral part of our activities
Attend performances at LIPA and at other creative and performing venues across Liverpool and further afield
Participate in activities which help you develop morally, culturally, and spiritually
Employability and experience of work
In addition to your studies, you will also be offered the opportunity to carry out work experience both internally and externally. Placements will be arranged to complement areas related to your studies and/or career ambitions. These opportunities will give you valuable experience across a range of activities both within and outside your chosen pathway. We will also provide ongoing information and support to help you decide what to do when you leave us.