About us
Robots Rewired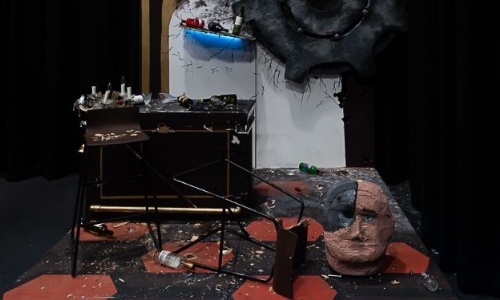 The latest installation from our Technical Theatre and Design for Performance students looked to the future and the role robots could play in it.
Robots Rewired was produced by Year 1 and Year 2 students from both courses. After research, which included a visit to an artificial intelligence exhibition at World Liverpool Museum, the students worked in small groups to develop an installation around our understanding of what robots are and what they can do.
During the design and construction phase of the project, students used a range of theatrical skills, including set, costume, lighting and sound design, scenic and props construction and painting.
Theresa Hailwood, tutor in Technical Theatre, said "Our students have worked on this project since September, and we have been impressed with their teamwork and creativity. Each group has worked hard to develop and create the theme for their work, and we are very proud of all they have achieved."
The skills learned and experience gained contribute to equipping the students to apply for further training in higher education or to go into work behind the scenes in a performance setting.
Robots Rewired was the centre piece of the Technical Theatre and Design for Performance open day. Attended by year 10 and 11 pupils and their families it also included a presentation and Q&A about the courses and the career paths available.