About us
Students bring cinema to life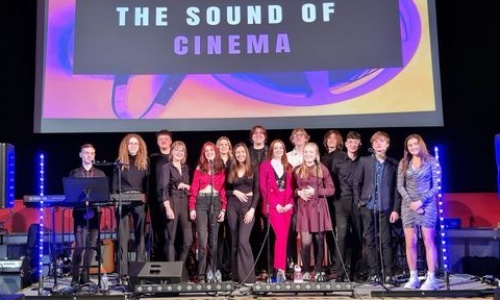 A specially assembled big band of LIPA Sixth Form College (LSFC) students have been praised for their professionalism after they performed live soundtrack music for a celebration of classic movie scenes.
The Sound of Cinema took place at the beautiful 1930s Plaza Community Cinema in Waterloo, Liverpool on 30 March. The night featured well known movie scenes from the last 40 years accompanied by live music.
The event was the brainchild of LSFC Music lecturer Mike Roberts. He says the response from the audience was great. "The show was a resounding success. Much of the feedback received expressed disbelief at the age of the students performing, as the quality was so good."
Rehearsals for the performance started in January after Mike had auditioned first and second-year Music students and put the band together. The aim was to give them experience of working in a professional session band. Second-year Lilly Lidford was appointed vocal leader, overseeing vocal arrangements and some of the rehearsals. Lilly says it was demanding but satisfying. "We worked together really well as a group, even though these rehearsals were on top of our studies and other extra-curricular activities.
"It was really rewarding to be able to perform together in front of family and friends at the Plaza and show our professionalism and commitment."
As part of the promotion for the event, the students filmed a short video, teasing some of the tracks that would be performed. This was a new experience for many of them and gave them an insight into film production.
The performance also involved one of our Technical Theatre Students, who operated the lighting and AV, which had been designed by Mike.