About us
Muntu Valdo workshop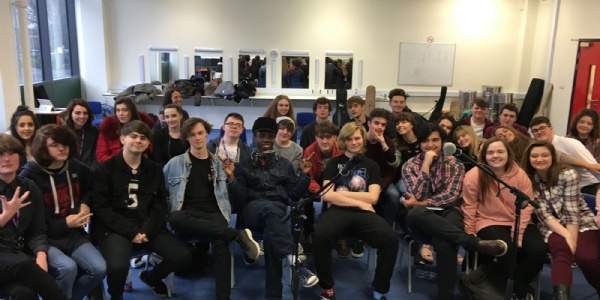 Muntu Valdo joined LIPA Sixth Form College students on Tuesday 28 February to deliver a music workshop.
Muntu has coined his own genre called Sawa Blues - a blend of Cameroonian folk music, African idioms, Brazillian samba, soul and jazz, which come together to make a rich and authentic sound. He performed a BBC Session for BBC Africa which gives a really nice introduction to his style: https://www.youtube.com/watch?v=z5vA0GAfOeU
Muntu shared his own artistic journey and taught the students musical tricks which were rounded up in a performance element at the end of the session. Through the workshop, he created a safe place to encourage creativity and appreciation for different cultures.
Muntu has been working as an artist since 2001 and has performed at a diverse range of events, including festivals around the world and also in his career has the honour to support Cameroon artist Manu Dibango at London's Barbican.