About us
Bill Nighy masterclass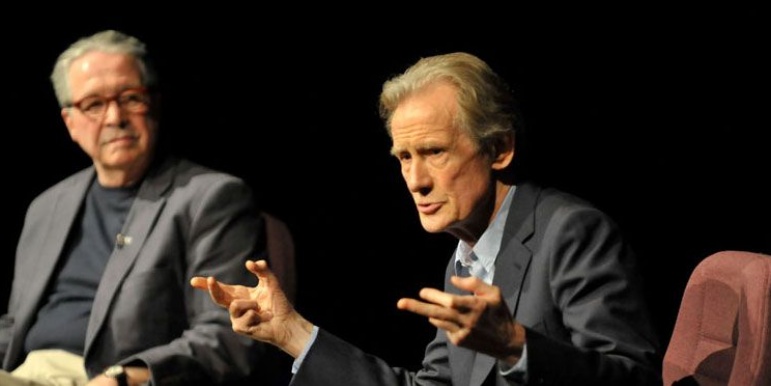 One of the UK's most popular actors, Bill Nighy visited the Liverpool Institute for Performing Arts (LIPA) on September 20th to take part in a Q&A session with LIPA sixth form College students and undergraduates.
Bill Nighy became a household name after his BAFTA-winning performance in Love, Actually and stars in the newly released horror film The Limehouse Golem.
In a 75 minute discussion he answered questions about the entertainment industry and his career, which spans five decades and includes appearances in some of the biggest film franchises; Harry Potter, Pirates of the Caribbean and Underworld.
When LIPA Sixth Form College student Charlie Shaw asked him what advice he'd give his 18-year-old self, he replied: "I would say: everyone's frightened, it's not just you. Being frightened doesn't make you a coward, it doesn't make you a bad person or weak. It's a perfectly natural response to life and to work."
He described how difficult he found acting, particularly in the early stages of his career and how he spent a lot of time feeling deeply self-conscious on stage. "I'm very good at producing negative propaganda about myself, I'm world class at this. I can listen to it now like a dodgy radio channel.
"I felt I was not clever enough, not good looking enough, not smart enough. I used to swallow this propaganda I created for myself. It was my only reality".
Despite these anxieties, and with encouragement from his dad, he persevered. "I had small victories over these feelings and these would to some degree sustain me.
"You can do incredible things whilst feeling chronically self-conscious, but you have to be really well prepared. Preparation protects you. It doesn't matter if you're having a bad day in your head, if you've got a plan."
Part of that preparation involves being word perfect. He advised: "If I was to tell you only one thing it would be to learn every single line before you walk through the door of the rehearsal room.
"If you're doing TV and film learn every single line word perfect until it bleeds out your of brain."
He said his insistence on being properly prepared for a role often puts him at odds with other actors. "I'm quite familiar now with going onto film sets and being the only person who knows their lines.
"They (other actors) will say you'll become imprisoned by intonations and it's therefore a discourtesy to your fellow professionals, but that's rubbish.
"You keep it fresh by saying the line over and over and over again 'til you can say it like you've never said it before - that's the process."
He acknowledged that some actors think rehearsal is the enemy of spontaneity but not for him, he said: "It's not. The reverse is true."
This wasn't the first time LIPA Sixth Form College students had attended similar sessions. Earlier this year, there were ballots to listen to Paul McCartney and Woody Harrelson.