About us
Nile Rodgers masterclass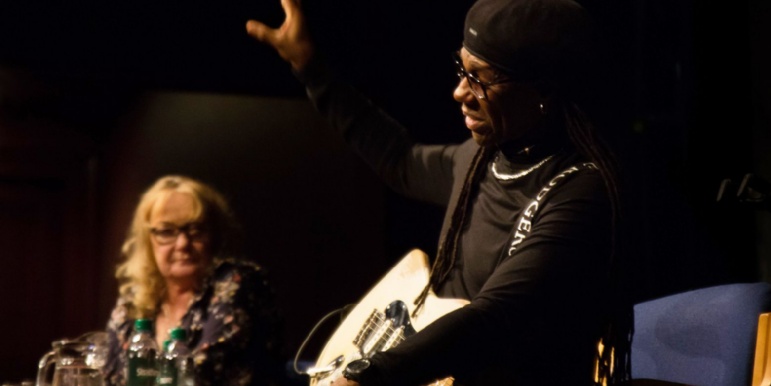 One of the industry's most sought-after musicians and songwriters, Nile Rodgers, explained how rejecting an opportunity to work with The Rolling Stones helped him to launch his career as a producer at a recent Q&A-style masterclass.
Janice Long chaired the Q&A session, which was attended by both LIPA degree students and LIPA Sixth Form College students, who are studying music- or sound technology-related qualifications.
Nile first found fame with Chic, one of the most successful bands of the 1970s disco era. During the Q&A he described how that success had led to him and his bandmate Bernard Edwards being offered the chance to produce other artists.
"The record label thought we could pour this magical Studio 54 disco fairy dust over any artist we worked with," says Nile. "They actually suggested we work with The Rolling Stones. It was all about disco and getting people on the dance floor. If The Stones could break into that market they'd be huge.
"But Bernard and I were smart enough to know that The Rolling Stones were such a famous band it would be pretty tricky. How would you know what they did and what we did on the finished record? So we said, 'instead of giving us your most famous band, gives us your least famous - and then we can show you what we can really do.'"
The resulting album was 1979's We Are Family by Sister Sledge. It made number three in the US Billboard album chart and featured three hit singles – all produced and written by Nile and Bernard.
In the years that followed Nile went on to produce Diana Ross, David Bowie and Madonna among many others. He shared how learning to play guitar as a child prepared him for that work. "The guitar can be quite limiting in composition and execution. I grew up listening to classical music, jazz and bebop, so I had to work out how to play those melodies smoothly on guitar. How to work around those limitations.
"It was preparing me for a job where I was always having to solve problems, which is what you have to do as a producer."
Nile showed how he achieved his signature guitar sound through the use of 'dead notes', demonstrated the origins of his guitar parts for Daft Punk's Get Lucky and how his ability to read and write music notation helped him get work as a session musician and arranger.
He also talked about his former bandmate, songwriting and production partner Bernard Edwards, who died in 1996 and how he influenced his work. "When we were writing he would say to me 'If you know what you really want to say just get to the heart of the matter instantly. Then you can start explaining it to people through the narrative of the composition.' So, we always started our songs with the chorus.
"When I was producing David Bowie and we were working on Let's Dance I said 'David, I want the first words to come out of your mouth to be Let's Dance – let's get to the heart of this, why wait?' As a producer I started to play the role of Bernard."
This event wasn't the first time LIPA Sixth Form College students had attended masterclasses held at LIPA. They have attended previous similar sessions by Paul McCartney, Woody Harrelson, Bill Nighy and Elaine Paige.