About us
Toyah Willcox masterclass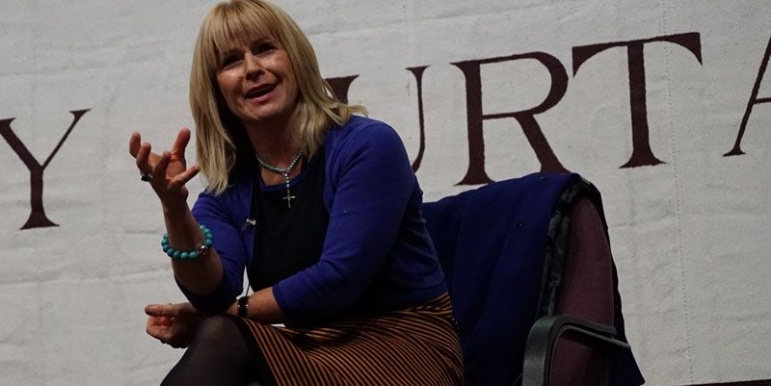 Musician and actor Toyah Willcox explained how taking risks and making mistakes in front of an audience is often the best way of learning as a performer.
"Virtually everything I've learnt, I've learnt from making mistakes in front of a lot of people," said Toyah, who was taking part in a Q&A-style masterclass attended by both LIPA degree students and LIPA Sixth Form College students, who are studying music.
The singer-songwriter, whose musical career started in the late 1970s, said how you reacted to those mistakes was important. "I was invited to headline the Old Grey Whistle Test Christmas Concert by the BBC. It was a manic experience with no time allowed to gather my thoughts. In the end I couldn't control my make-up artist or hairdresser through exhaustion from dealing with everyone else's problems.
"As a result I ended up with a hair-do that when I started sweating fell apart on live TV in front of 12 million people. I had to own that mistake. It's as simple as that. One of the greatest things I've learnt is that if you own your mistake in front of the audience, the audience really love you for it."
Toyah was already a successful actor at the National Theatre when her music career took off and has been able to maintain success in both disciplines. She described having the two careers was like "living a double life", but explained how one can benefit the other. "I love working in movies and just being in that creative space and the interaction, it opens up your creative instincts and the flow of ideas.
"Creating a character, examining why a line works helps me examine why I've just written a lyric and see it in the perspective of a different character. It gives you a 360 degree perspective of something."
During her career Toyah has released over 20 albums, appeared in more than 40 stage plays, 10 feature films and written two books. She discussed how she managed to maintain that level of creativity and the importance of keeping creative records. "Every idea is a new beginning. I've got books and books of handwritten lyrics and stories. Don't let any of them go.
"Each idea is a seed and it can germinate. I still go back to books I had 30 years ago and find some absolute gems."
With her career entering its fifth decade, Toyah believes longevity is achievable for all artists. "There is no reason your career can't last for your entire life. Now I'm turning 60 I get offered much more interesting roles."
Her acting success also continues to be mirrored by her career as a musician. "I don't chart anymore, the music industry doesn't care about me, no one wants to sign me. Yet I had a musical in London last year, Crime and Punishment, which is being turned into a movie. I have sell out tours across the globe and play to over 100,000 people each year. You can exist without being dependent on the industry."