About us
Muse tour director visits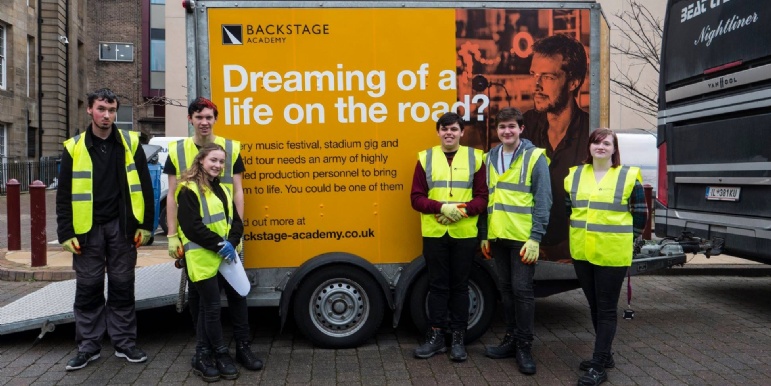 Production Arts and Sound Technology students got some hands-on training from Muse's tour director, Glen Rowe.
As well as over 20 years of experience in live music, Glen is also Managing Director of Backstage Academy. It provides live events production training and brought its mobile training unit, the Beat The Street Tour Bus to LIPA Sixth Form College (LSFC) for the day.
Glen showed students around the tour bus - giving them an insight into what life on the road is really like and the range of jobs available.
Then, under Glen's supervision students took part in a load-in, load-out challenge. They worked as a team to unload and reload a trailer of equipment, learning about the necessary teamwork, speed and organisation required from members of a touring crew.
Theresa Hailwood, lecturer in Production Arts (Technical), said it was great for students to spend time with a leading industry expert. "This visit has given the students a valuable taste of life on the road as part of a live events crew. It's also opened their eyes to the opportunities a career as a live sound technician can offer."
The load-in, load-out challenge was timed and if LSFC students were the quickest at the end of Backstage Academy's tour of the UK, the college will be given £2,000 to spend on equipment.