About us
Danny Boyle masterclass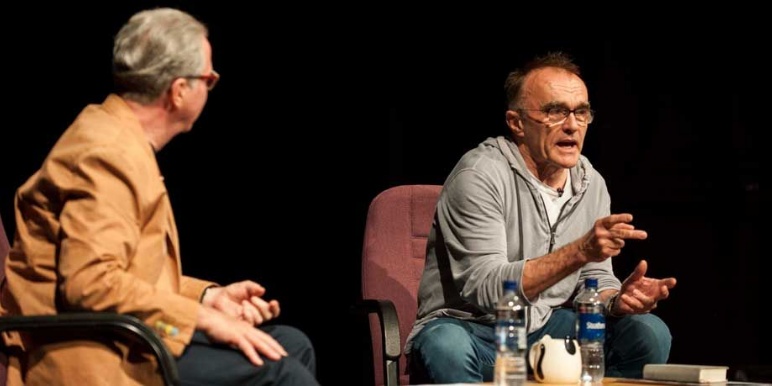 Oscar-winning director Danny Boyle has told students at LIPA Sixth Form College (LSFC) that they've chosen a growing industry to go into and that being young is a great advantage.
Danny Boyle's credits include Trainspotting, Slumdog Millionaire and Steve Jobs. He was Artistic Director for the opening ceremony of the 2012 London Olympics and has just been confirmed as director of the next James Bond film.
He visited LIPA on 29 May with LSFC students invited to take part in a Q&A session. Here's five things we learnt:
It's a great time to work in the performing arts
"Given how uncertain employment is in so many industries, the performing arts is a wonderful world to have chosen. When I was young, I was told 'don't do that, get a job in a bank.' Ironically, our business is still growing and needs more people. They haven't found a way of robotising it yet."
The film industry needs young people
"The industry feeds off the young. The industry is built around the young. It's always been like that. It tends to tell young aspirational stories and tends to fill its cinemas with young people. The truth is, the great glacier force moving forward is always youth. You may not realise it because it looks intimidating, but it wants you. Don't be discouraged, being young is a great advantage. "
Open yourself up to judgement
"You must allow your work to be judged, which is perhaps the most difficult thing to do. It can be brutal, but it's really important you allow yourself to go through it. You will emerge out of it and the fires will be kindled further by that experience."
If you're an actor – be friends with a casting director
"The most important person in any casting is the casting director. They open doors for people. If you're going to besiege anyone with presents, then let that person be the casting director. The really canny actors I know get auditions through a casting director and send them a little thank you note. It works. Because they like you, they'll get you in next time.
"Casting directors do 15 projects a year, whereas a director will do one every two years. Look at the numbers, it's obvious you stand much more chance if you develop relationships with casting directors."
A director's relationship with designers is key
"After the writer, the designers are the first on board of a new production. You're developing the visual look of the film with the art department as you're casting it. To be a good designer you have to be obsessed with the small details, but also good at a grand flourish."