About us
Sharon & Ozzy Osbourne masterclass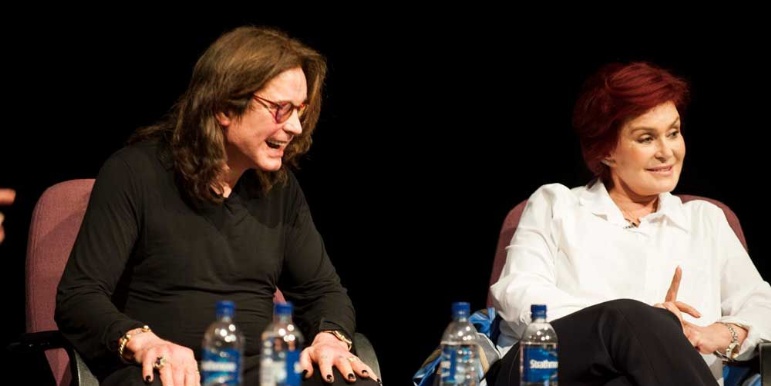 Media personality, music manager and promoter Sharon Osbourne told LIPA Sixth Form College students she has a "difficult" relationship with X-Factor because many of the acts are "too manufactured."
Sharon – who's a judge on the TV talent show – visited the Liverpool Institute for Performing Arts with her husband heavy rock singer-songwriter Ozzy Osbourne to give a masterclass to students. She said: "The show had some huge selling artists. I love it and the people I work with, but my taste is for something more individual.
"Many of the bands are put together, the songs are written for them, the stylist comes in and then the choreographer tells them how to move. I appreciate what they do and understand why they sell so many records, but it's not organic enough for me."
During the 75-minute Q&A session, Ozzy discussed the early days of his influential band Black Sabbath and why he pursued a career in music. He said: "I'm incredibly dyslexic. I didn't learn anything at school or come away with anything except my attendance record.
"I knew I wasn't built for the nine-to-five, but when I got into music it made me feel like I was somebody. I knew that's what I wanted to do."
The pair met when Ozzy left Black Sabbath in 1979 and Sharon became his manager. Since then he's released 17 albums and had a UK number one single with his daughter Kelly. In 1996, a lack of festival bookings for Ozzy led to Sharon launching the travelling rock festival Ozzfest – which is now in its 18th year - and in 2002 the pair and two of their children appeared in the MTV reality TV series The Osbournes, introducing Ozzy to a new generation of fans and launching Sharon's TV career.
During that time, Sharon continued to work in the male-dominated music industry and while things have improved, she believes there are still plenty of challenges for women. "Ultimately, and I don't care what anyone says, men prefer dealing with men." And she had this advice for any women following in her footsteps. "When you go into a meeting, it's straight business, never behave like the kitten.
"Look them in the eye and make sure you know what you're talking about. That way they know you're not to be messed with. That way you get respect."