About us
College theatre named for playwright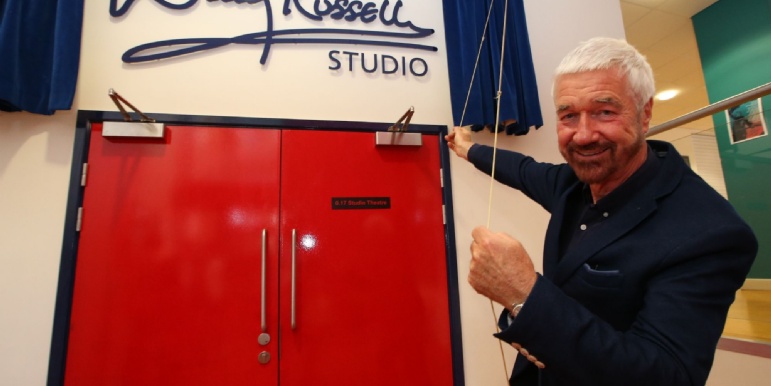 Award-winning Liverpool playwright Willy Russell has been honoured by The Liverpool Institute for Performing Arts (LIPA) by having the Sixth Form College's studio theatre named after him.
LIPA commissioned an unusual signature-based name plate for the theatre, which Willy unveiled himself.
The naming ceremony honoured Willy's commitment to education and his outstanding contribution to the city's culture, through his much produced plays and musicals such as Educating Rita, Our Day Out, Shirley Valentine and Blood Brothers.
Willy said: "Working as a young teacher in Liverpool and then, later, as a playwright who often cast and worked with groups of talented but often un-taught youngsters I saw time and time again how access to and involvement in the arts provided the most comprehensive, character-forming and fully-rounded of learning experiences.
"For me to have my name associated with a theatre specifically created to house the experimentation, discovery, struggle, triumph, creative failure and success of the young is a great honour – one that I'm deeply proud and delighted to accept."
Mark Featherstone-Witty, CEO and Founding Principal (LIPA) commented: "Before I made Liverpool my home, Willy, along with The Beatles, embodied Liverpool. Unlike current playwrights, Willy's shows were saturated with people, people you got to know. If I was allowed a collection of plays to take to a desert island, it would be Willy's – to remind me about human aspiration."
LIPA Sixth Form College opened in 2016 and is a specialist Further Education provider. It offers two-year courses in the creative and performing arts for students aged 16-19. Run by LIPA, it is one of a handful of such colleges in England and the only one of its kind in the North West. The college is equipped to professional standards, and students perform regularly in the 100-seat theatre space, which now bears Willy's name.
Willy is a LIPA Companion, which means he has generously shared his expertise with LIPA students over the years.
In addition to the theatre naming, he also provided a masterclass for LIPA Sixth Form College students.