About us
Busk Off for World Cup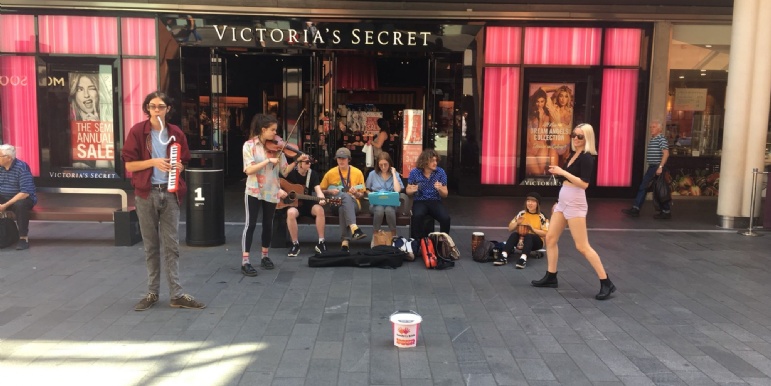 First year music students at LIPA Sixth Form College are taking part in a unique busking competition to raise money for a local children's charity.
Organised by shopping centre Liverpool ONE, the 'busk off' features teams of students who will write their own anthems to cheer on England in the World Cup and then perform them to the public. The team that raises the most money through busking wins, with all proceeds going to Radio City's Cash for Kids fund.
The event began on Monday 25 June, and runs 10am to 3pm daily until Thursday 28 June at Paradise Street, South John Street and Sugar House Steps in Liverpool's city centre. The public are asked to come along and listen to the musicians and choose their favourite by donating money.
Brian Campbell, music lecturer, said: "Busking is a great opportunity for our students to hone their performance skills. Most performances are played to an audience who have bought tickets and who want to see you do well. With busking, you have to convince them of your talent. I believe that what works on the street will work on the stage, but not necessarily the other way around. The 'busk off' will really test their skills, putting our students into a new environment and out of their comfort zone."
The 'busk off' challenge rounds off the students' first full academic year at LIPA Sixth Form College, giving them an opportunity to put all the skills they have learned into one final, fun task, and raise money for a worthy cause at the same time.
Post script - we raised £1,343 over three days, with all proceeds going to Cash for Kids.