About us
Leavers' Celebration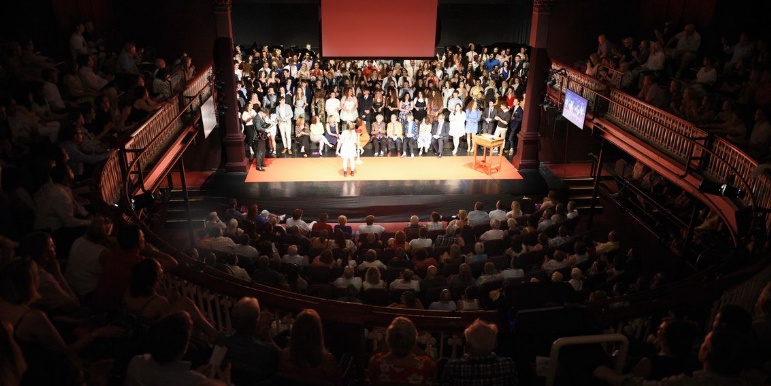 LIPA Sixth Form College (LSFC) held its first Leavers' Ceremony on 26 June 2018 to celebrate its first intake completing their two years of study.
Families and friends packed the Paul McCartney Auditorium as the achievements of the 170 second-years were honoured, with LSFC Director Charles Bartholomew telling them they will always "have a unique place in our history".
Special guest Noddy Holder presented the students with a commemorative pin. He also shared some advice, reminding them to "stay curious" and take advantage of every opportunity.
Award winning playwright Willy Russell, who recently unveiled the college's Willy Russell Studio Theatre and provided students with a masterclass, also played a part in the ceremony. He had recorded a congratulatory video message, which commended them for their hard work, and wished them every success for the future.
LSFC opened in September 2016 offering two-year courses in Acting, Dance, Music/Sound Technology and Production Arts. Mark Featherstone-Witty, CEO and Founding Principal of LIPA, thanked the audience of families and friends for putting their trust in the college ahead of its opening.
Many of the departing students are going onto university or to conservatoires to further develop their skills and experience. Others are going straight into work, have plans to travel, do voluntary work, or wish to build up their performance skills further before applying for higher education.