About us
Willy Russell masterclass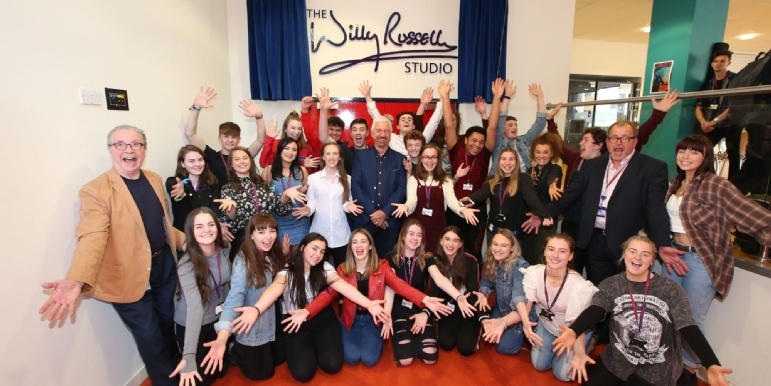 Award-winning Liverpool playwright Willy Russell told students at a LIPA Sixth Form College (LSFC) Q&A how he finds having a deadline is vital. "If I don't have a deadline, I'll constantly be telling myself 'I can do it better than that'."
Willy, whose plays and musicals include Educating Rita, Our Day Out, Shirley Valentine and Blood Brothers, explained the importance of a cut-off date. "If the poster's been printed, the tickets sold and the designer's started the set – you can't get out of it, you have to deliver.
"I thought Blood Brothers wasn't good enough, Educating Rita wasn't good enough, Shirley Valentine wasn't good enough – but because they had to be delivered, they were delivered. If there hadn't been a deadline perhaps they would never have existed?"
Willy described how his personal breakthrough as a writer came with a change of form. "I'd been struggling to write a novel for two-and-a-half years. As soon as I started working on a play, I realised that's where my talent lay.
"Plays are about the spoken word, not the written. As soon as I started writing dialogue, I knew what it should sound like. I'd been brought up with the sound of dialogue and these larger than life characters and the craziness of my extended family. I was equipped to write dialogue."
The creative process was discussed, with Willy describing it as "a constant negotiation between complete and utter immersion and the ability to stand back and see what effect it's having.
"I know a writer who will plan out each and every scene before he starts writing. I couldn't do that. It doesn't allow for the glorious occurrence that happens when you're really writing well when the play will go off in a direction you hadn't foreseen. But you allow that to happen without a degree of control, it is just a hopeless mess of goo, which will never have any real meaning."
During the Q&A with students, Willy was asked whether he considered himself to be a political writer. He explained he was, but not overtly. "Educating Rita had an effect on people who thought they had no right to go back to education, it acted as a spur.
"I think they would have found their way back into education anyway, but they do cite Educating Rita. That's political, but it's politics with a small p."
After Willy's session, the studio theatre was named after him and so is now called The Willy Russell Studio, although he was bit worried that this would be shortened to 'The Willy'.