About us
Students bow out in style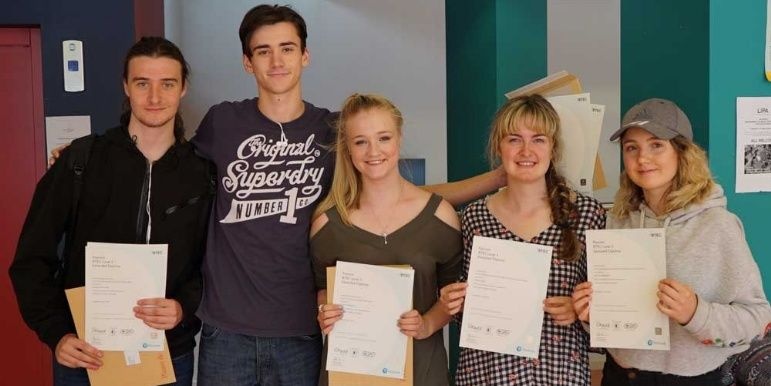 LIPA Sixth Form College (LSFC) is celebrating the success of its first intake of students with 99% of them passing their course
LSFC opened in 2016 offering specialist qualifications in the creative and performing arts. Their first cohort of 165 students have completed their BTEC Extended Diplomas in one of five subjects: Acting, Dance, Music, Production Arts and Sound Technology and received their results on 16th August.
Some 59% of students passed with high grades of either Distinction or Distinction*. Charles Bartholomew is Director of LIPA Sixth Form College. He said: "We're delighted with the first set of results. It shows the immense progress the students have made in their two years here and the standard of work that they've completed has been fantastic.
"What has really impressed me though is the way that they work with each other. We have a very positive working environment and the students are very supportive of each other. If you can strive for excellence and at the same time have that generosity of spirit - that is something really special."
Over 92% of the students are heading onto Higher and Further Education or employment, with many offered places at some of the country's top performing arts colleges and conservatoires. Over one third of those going onto study at higher education institutions are doing so at a conservatoire or a Federation of Drama Schools/Council for Dance, Drama and Musical Theatre accredited school.
Some examples include Dewi Wykes who will be taking a place on the Acting degree at Bristol Old Vic; Amelia Hawkes – who completed the Production Arts course – is off to Rose Bruford to study Theatre Lighting Design; Music student Rosita Maria Da Silva Teixeira will be going to the Royal Northern College of Music; Megan Landi is to study Musical Theatre and Professional Dance at Bird College, while Oscar Cornah Burrows will continue his Sound Technology studies at the Liverpool Institute for Performing Arts.
Whatever is next for the students Charles Bartholomew believes they'll be ready. "We've helped them develop their own independent way of learning. Taught them how to work in groups, how to be resilient and how to work as an industry professional.
"After all their hard work and commitment over the last two years I'm confident our students are ideally placed to succeed, whether that be in higher education or employment."