About us
Steve van Zandt masterclass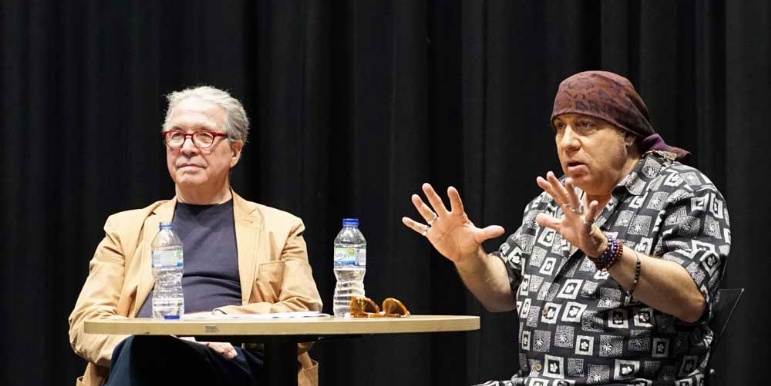 Musician and actor Steve van Zandt shared his approach to the five 'crafts' of music with LIPA Sixth Form College students at a recent masterclass.
He told students that the first craft was to learn an instrument or to sing, and to find several other musicians with similar tastes to form a band. After this, you should make a list of your favourite 50 songs.
The second craft, he said, is to analyse those songs, the process of which turns you into an arranger, as you work out what each instrument is doing within the song.
The third craft is performance. "Now you go out and start playing to an audience – playing your 50 favourite songs means you're really absorbing them. The Beatles did six sets a night in Hamburg for months at a time – that's why they were so good. You're also learning how to interact with the other band members and with the audience, and what effect those songs have on an audience."
Composition is the fourth craft – "the reason why the great writers are great is that they've done the first three steps. Learning your favourite songs sets a standard, and you must have a standard when you start to write, otherwise it'll just be trash."
The fifth craft is recording – "and that's a whole different craft."
Steve spent five years writing his own material, producing songs he wasn't really happy with. He pinpointed the origin of rock and roll as being songwriters Leiber and Stoller, who wrote for Elvis Presley, and decided to write a song in their style for Ben E King and The Drifters. It turned out to be his first song that reached the standard he had set himself. "And I did it by tricking my own mind, I never showed them the song."
Steve had some further advice for the music students in the audience. "I'm always telling people to write with a purpose, don't just write. A great exercise when you start writing is to write for your favourite groups – that puts you in a different frame of mind and actually exorcises the problem."
Steve also talked about his acting career, including his time on hit HBO show The Sopranos, and how, as a non-actor, he initially didn't want to take work away from trained actors. His role – which he played for eight years – ended up being written especially for him.
Steve was visiting LIPA Sixth Form College ahead of his performance at Liverpool's O2 Academy with his band, The Disciples of Soul, as part of a European tour.