About us
Class of 2018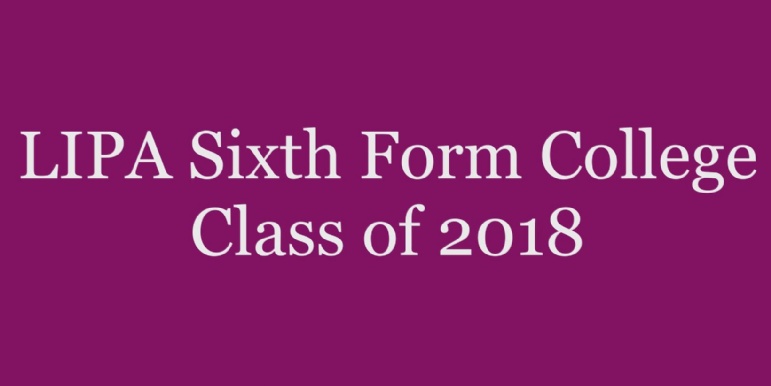 Since receiving their exam results in August 2018 74% of LIPA Sixth Form College's (LSFC) first intake of students have gone onto higher education
17 of them have secured places at top conservatoires including Bristol Old Vic, Guildhall, Leeds College of Music, Liverpool Institute for Performing Arts (LIPA), Mountview, Royal Birmingham Conservatoire and Royal Northern College of Music. The subjects they will be studying include acting, popular music, songwriting and stage management and lighting.
A further 57 students have taken up places at university including Edge Hill, Manchester Metropolitan, University of Leeds, University of Liverpool and University of West London to study subjects such as dance, business and management, communications and media, costume design and event management.
The total heading into higher education includes all of the Technical Theatre & Design students, who gained places at some of the most competitive courses in the country at LIPA, Mountview and Rose Bruford.
The 165 students were LSFC's first intake in 2016. 99.4% passed their BTEC Extended Diplomas with 59% passing with high grades of either D*& D or A*/A equivalents. Over 96% of the students are now in further and higher education or employment.
Dewi Wykes, Acting
Now studying: Professional Acting (BA Hons), Bristol Old Vic
| | |
| --- | --- |
| | "I've learned a great deal during my studies at LSFC, particularly about different acting styles and techniques and how to prepare for auditions. Thanks to my training at LSFC, I feel ready to take that next exciting step." |
Megan Landi, Dance
Now studying: BA (Hons) Professional Dance & Musical Theatre, Bird College
| | |
| --- | --- |
| | "During my studies at LSFC, I've been able to take control of my learning, and develop my leadership skills and my independence. In addition to dance shows, I've worked on amazing productions such as Rent, which saw students from all courses working together. One of the best things about LSFC is that it's a close community with really supportive teachers." |
Rosita Da Silva Teixeira, Music
Now studying: BMus (Hons) in Popular Music, Royal Northern College of Music
| | |
| --- | --- |
| | "I've learned so much during my time at LSFC, including music theory and music technology, and about the music industry, to develop my skills as an all-round musician. I've loved working on the end of year musical theatre shows, when everyone contributes their skill towards putting on a big production. I've really enjoyed LSFC and would recommend it to anyone." |
Harry South, Technical Theatre & Design
Now studying: BA (Hons) Theatre & Performance Technology, LIPA
| | |
| --- | --- |
| | "I knew I wanted to work backstage but wasn't sure what I wanted to do. When I found out about the Technical Theatre & Design course at LSFC, it appealed to me because it gave me a chance to try lots of different things before finding what suited me best. I've found the Technical Theatre & Design course to be really well-run, with incredibly helpful tutors – LSFC is a great environment to study in." |