About us
Gary Barlow masterclass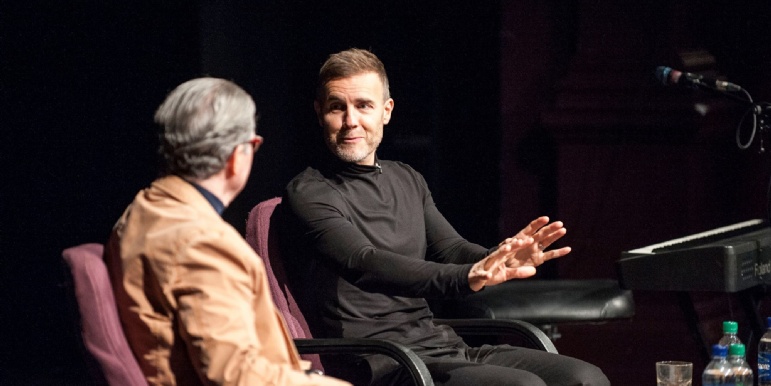 Gary Barlow told students from LIPA Sixth Form College how the lessons he learnt as a teenager, performing in clubs and pubs, had been some of the most important.
"There'd be people in the audience reading the newspaper. You had to win them over. Those eight years of learning were absolutely crucial."
The songwriter, musician and member of Take That was taking part in a Q&A at the Liverpool Institute for Performing Arts on 7 December. He discussed his childhood and how by the age of 12 he was playing keyboards professionally – often as a backing musician.
"I used to watch the acts come and go. Some of them would get a standing ovation and it wasn't always because they were better than the other acts. It was how they positioned their show. They took the audience on a journey. They played the right songs at the right time. I studied that."
By the time he was 17, Gary had moved to the front of the stage performing his own gigs. "I'd be playing every weekend, sometimes six or seven shows. I learnt how to work an audience, how my set list worked and how to get the best response from an audience."
Those are skills he still relies upon. "When I'm touring on my own or we're working on a musical and trying to decide on where to have an interval, it reminds me of those times. Trying to predict how an audience will feel."
In 1990, at 19, Gary became a member of Take That. The band are the biggest of their generation with 12 number one singles and seven number one albums in the UK to date. They've won eight Brit Awards – including Best British Live Act – and are heading out on a European tour in spring 2019.
Gary says playing live with the band is very different to his smaller solo shows. "Playing to 80,000 people, you don't have control of an audience, the show has control of the audience. You are a spoke in a big wheel.
"If I play the Liverpool Empire, that's harder work. From the minute I'm on – and this goes back to those early shows – I keep eye contact with the audience and I take them with me. They're in my hands. It's a much more challenging show, but I love that."