About us
Fragments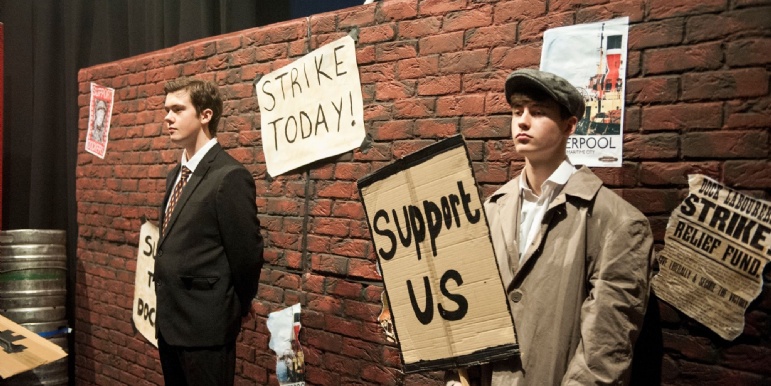 Technical Theatre & Design students at LIPA Sixth Form College have written and produced the college's first-ever promenade performance
For Fragments, which looked at key moments in Liverpool's history, the audience moved around the auditorium visiting installations and set design pieces which told different parts of the story.
Beginning on the deck of a ship and the story of two sailors heading off to fight in the First World War, the promenade performance then took the audience onto the Blitz (complete with air raid shelter), the dock strikes, Hillsborough and a celebration of Liverpool music from the 1960s to the present day.
First and second year Technical Theatre & Design students worked in small groups and as a company to create different elements of the set, which included the use of costume, lighting, sound and film. The script was written by a small group of second year Technical Theatre & Design students, with performances by first year Acting students.
Bruno Vines, one of the students working on the piece said: "This show gave me the chance to do more costume and set construction than I have on previous shows and I've really enjoyed rising to the challenge. Having designed and made my own costume from scratch has been a really positive learning experience.
"Being from Liverpool, I've found this theme particularly relevant to work with and felt I had a lot to offer my group, who worked on the Blitz part of the show."
Fragments was performed to two sell-out audiences.