About us
Rowan Atkinson masterclass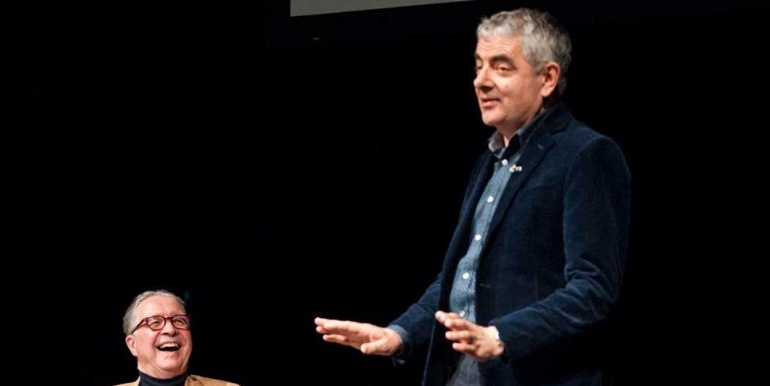 Rowan Atkinson told students from LIPA Sixth Form College that Mr Bean had been specifically created for an international audience and that its global success had "pleased but not surprised" him.
The actor, comedian and writer was taking part in one of LIPA's In Conversation with… Q&A sessions at the Liverpool Institute for Performing Arts on 5 March, which LSFC acting students also attended. He said the idea for Mr Bean came while shopping in Venice during a holiday over 30-years ago. "It struck me that rock artists and musicians in many ways presumed an international market place for what they did. Generally, music can be heard and sold all over the world and everyone can appreciate it.
"I thought how odd that comedy is completely different to that? Generally, comedy is a very regional, parochial thing. In 1985, we hadn't done Mr Bean, we hadn't given him a name but I had been doing these visual comedy sketches. I thought I'm sure there is an international audience for that character, whoever he is. Because there are no words, you don't have to understand English to appreciate it."
The first series of Mr Bean was broadcast in the UK in 1990. Since then, it's been shown on 245 TV channels across the world and used as in-flight entertainment on over 100 airlines. As well as 15 episodes, there have also been two full-length feature films and a spin-off cartoon series.
Rowan traced the genesis of Mr Bean back to one of the first sketches he wrote, part of which he re-enacted in the Paul McCartney Auditorium.
A mainstay of his live performances, the character was developed with his long-time collaborator Richard Curtis – who co-wrote the first seven episodes of Mr Bean. The pair met as students at Oxford University. Rowan said the partnership - and collaboration generally - had been instrumental to his success. "I've always found it easier to be creative with a partner. Most of the successful performers I know formed creative partnerships, like me, at a very early age.
"It's so exciting when you work with someone, who you have empathy with. You may not always agree but it's so energising to have two people contributing to an idea. That's where real invention and real creativity comes from."