About us
Peter Capaldi masterclass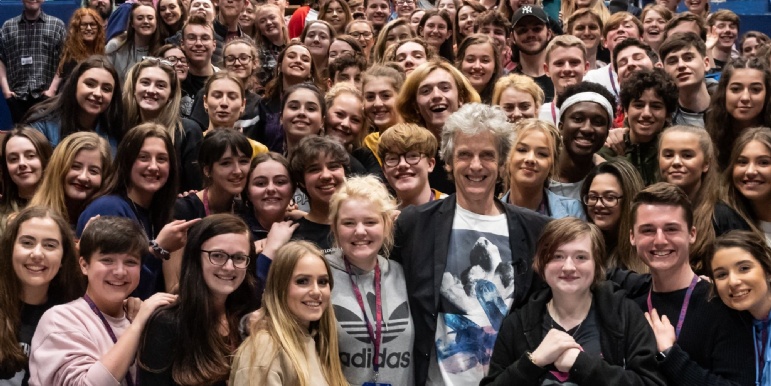 Doctor Who star Peter Capaldi has told students at LIPA Sixth Form College not to be "derailed or side-tracked" from following their ambitions
Taking part in a Q&A in The Willy Russell Studio Theatre, the actor, writer and director said he wanted to be a performer from an early age, which didn't make his school days easy. "When I was growing up in Scotland, it was very difficult to be arty because everybody loved football.
"At school, I was really persecuted because I liked painting and films and wasn't very good at football. I was basically in the garbage, but I thought I'm going to keep doing this because I like it and enjoy it. If the performing arts is what you want to do, then you've got to take it seriously."
Peter, who played the part of Doctor Who from 2014 to 2017, grew up in a tenement building in Glasgow and told students their backgrounds shouldn't stop them from achieving success. "Don't let anyone tell you that you can't do this.
"No matter where you come from or who your parents are, you can become an actor or a musician or a writer because that comes from inside. That comes from your self-discipline and your gifts. You are all artists. It's your birth right as human beings."
During his session, Peter was asked why he left Doctor Who. "I loved the job, but I was tired. I wasn't sure I could keep on doing it and doing my best, because it takes so much out of you. I knew it was going to get harder and harder to be inventive with it.
"There's a whole part of that job that is not just the acting. Once you finished 10-months of filming you have to go out and help sell it. It's lovely as they take you all around the world, but you never stop. It's a privilege, but it takes over your life. It was nice to stop and get some of my life back."